Barreling through Toys R Us, trying to squeeze in one more errand before the nap time meltdown took over, we swerved between displays of this year's "hottest toys", making our way to our goal, the Lego section.
As we sped past one such display, Baby S's arms shot out and he grabbed for the stack of toys, his customary whine-moan-point word substitute distracting me from my mad dash.
Being what I would characterize as a laid-back toddler, Baby S doesn't often express true desire for much of anything. And while he understands every word you say, make no mistake, he rarely verbalizes and even more rarely is that verbalization anything that resembles English. So when I see profound desire or hear him moved to chatter, he has my full attention.
My sneakers squeaked as I braked the shopping cart to investigate (and avoid the impending disaster resulting from precariously stacked toys and the arms of a frantic child).
What caught his attention?
Oh crap. Furby 2012.
I remember these the first time around. These were a part of the early days of the creation of the annual holiday toy craze characterized by a cleverly marketed "it" toy that just happens to be afflicted with the manufactured shortage that results from "unanticipated demand", the subsequent lines of desperate parents waiting for stores to open to snag said toy, followed by eBay bidding wars that can only be won by shelling out roughly the price of a new kidney.
When the original Furby hit the scene back in 1998, I was in college but very susceptible to adorable fuzzy toys (including a certain Tickle Me Elmo that was a result of the Great Toy Panic of '96) and, I think more importantly, I loved a challenge. So of course I scoured toy stores, the internet, Craigslist and eBay until I had one of those whacked out little aliens staring at me creepily from my nightstand.
The thing never shut up. He was hungry all the time, babbled incessantly, and I would wake up to the sound of gears turning and his freakish little robotic eyes blinking in the dark. He was annoying, loud, and much like Baby S, spoke very little English.
The theory, eerily similar to the advice you receive when you express concern about your so-called non-verbal 21 month old, is that the more you interact with Furby, the more quickly he will "learn" enough English that you can understand him.
There were about 25 of these little nightmares in this stack, in all different colors.
Baby S held tightly to one of the boxes as I studied another, trying to figure out what possible improvements could have been made to this little demon in fourteen years. Apparently, he now sports LED eyes (as though the originals weren't creepy enough) and can interact with an iPhone app, not to mention his updated price tag.
Part of my efforts to encourage Baby S to become more verbal involve uncomfortable babbling, often in public places in opposition to my own non-verbal tendencies and garnering sideways glances from the judgmental patrons of such esteemed establishments as Wal-Mart. I've grown to believe during these one-sided conversations that I can understand Baby S's responses by reading his body language and looking into his eyes. It's a fun little make-believe game, though there is probably a great deal of truth to it. So, with full understanding of the rhetorical nature of any inquiry made of my mostly-silent sweetie, I start in:
"Oh do you like that?"
He looks at me as though to say "What tipped you off woman, my death grip on the box?"
"Maybe Santa could think about that for Christmas."  That's code for, maybe you'll forget about this because I have no intention of buying it.
"Well which one would you want?"
His head tilts down then swivels back up, all long eyelashes and preciousness.
"Ye-yow."
What?  More babble or was he trying to respond?
"Ye-yow?  What's ye-yow?"
He pushes the box toward me and repeats, louder this time, "Ye-yow!"
Noticing the tuft of fluffy canary-colored hair sticking out of the top of the box, I finally get it.
"Yellow!"  I yell, hopping up and down, a huge grin plastered across my face, "you like the yellow!  Yellow!  You want the yellow one!  Sold!"
After swooping another Furby into the cart for his older brother, sibling rivalry an unwelcome presence under any family's Christmas tree, I marched toward the register.
So how do you get your mom to buy not just one but two overpriced pieces of junk most appropriately suited to torturing prisoners of war that fail to even include the courtesy of possessing an on/off switch?
Reach a much-yearned-for milestone in the middle of Toys R Us.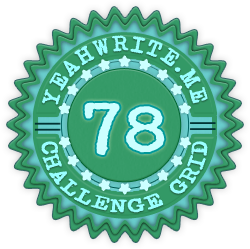 Linking up with Yeah Write, my favorite source for a week's worth of great reads!  Stop on by…