Way down south in the coastal region of Texas,
Lives a baby whose beauty is enough to perplex us,
His eyes sandy beaches of tan and cystal blue,
His hair angelic curls of white and yellow painted through,
The only flaw marring the masterpiece his features did compose,
Was the perpetual river running out of his nose.
It is endless this river of gloppy glipple goo,
Morning, noon and night out of his honker it flew,
We know not from whence it came, we know not the cause,
But one things for certain, Baby S has a Snotty Schnoz.
And what do you do with the Snotty Schnoz culprit?
Will mountains of tissues and Boogie Wipes stop it?
Should we try winestoppers or clothespins or gum?
Should we go for the superglue or perhaps use our thumbs?
Or what about gummy bears, ear plugs or tampons?
Marshmallows, M&Ms, peanuts or croutons?
What in the world would be causing the endless sticky stream,
Allergies, a cold, a really bad dream?
Sometimes it's clear, sometimes sticky yellow,
But when it turns green, we have a very unhappy fellow.
For on the heels of the green flow of funk,
Travels Mr. Ear Infection, a right evil little punk.
"Mom!  It's dripping!"  Little Boy K  will shout all a-tither,
His finger aimed in disgust at his sweet little brother,
"Hurry!  It's getting inside of his mouth!
It's dripping down his chin!  It's going farther south!"
Hurdling toys, I come running as fast as I can go,
To do what I can to clean that crap from his nose.
Most kids have "lovies"
But  my baby's too cool,
His must-have accessory's
A sinus drainage tool,
As long as he has his battery-powered snot-sucker,
He's perfectly content, one happy little ….uh…plucker.

The Snotty Schnoz is a thwarter of endless photo ops,
"Oh look what he's doing!  Grab the camera!" I shout,
I get ready to aim and then notice his snout,
By the time I've wiped the mess the moment is gone,
The Snotty Schnoz wins again, we are all helpless pawns.
There's nothing like leaning in to kiss your sweet boy,
And getting a mouth full of mucous to enjoy,
I curse that dagblasted languishing leak,
Of ever-present booger-gunk dripping out of his beak.
Still full of questions, I conclude this tale of woe,
With no hard and fast solutions to help curb the flow,
An albatross round his neck this affliction it 'twas
My sweet little baby and his Snotty Schnoz.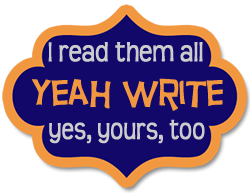 There's a wonderfully supportive group of bright bloggers
That spend every week huddled up at their monitors,
Makng sure they've read them all, even if it takes all night,
They comment to let you know someone's always listening at Yeah Write!
Follow me on Twitter                                  Find me on Facebook                                  
Want new posts delivered straight to your inbox?  Subscribe by Email!