I have fought a life-long battle.  The casualties of my personal war are many:  hours and hours of my time, buckets of teenaged tears, numerous electronic appliances, and enough wishes to fill a fairy tale.
My enemy is with me every moment of every day.  When I look in the mirror, it stares back at me, mocking me like some Snow-White-Magic-Mirror-Wannabe.
"You can pull and you can tug, you can try to kill me with heat and chemicals, and I may even disappear for a while but I will be back!"
My enemy?  My curly hair.  I have The Curly Hair Curse.
Now wait a second – before you start with the "I love curly hair!" let me clarify.  I don't have romantic period-film heroine curly hair a la Julia Ormond in Legends of the Fall or Blake Lively care-free, I-just-got-back-from-the-beach curly hair.  Maybe I would if I had a staff of hair people with the right products and an endless amount of time and lived in a humidity-free zone.  But left to its natural state, my hair more closely resembles what was commonly the result of a bad eighties perm.
When I was a little girl, my mother kept my hair cut short, in a cotton candy fluff halo.  I was never allowed to let it grow long because she claimed it would only grow out and not down.  It was ugly.  It was awful.  Strangers often mistook me for a boy.  Even then, in the eighties, when curly hair had a brief stint of popularity, my hair wasn't the "right" kind of curly.
I dreamed of having long, straight, beautiful hair.  I would "fake" having long hair by taking one of the thinner bath towels, wrapping it around my head and securing it at the base of my neck with a shoelace.  I would toss my head left to right and feel the weight of my "ponytail" as it brushed across my back.  My favorite towels even had a little flowered pattern on them and those were especially useful for more exotic days when I wanted to pretend my hair was laced in flowers like some woodland nymph.  I loved the heaviness of it; in my mind I finally looked the way I wanted.
When I wore my long hair, I went by the name of Tracy.  Tracy was the sort of sophisticated name a girl with perfect hair would possess, as opposed to my "common" name that I shared with three other classmates.  With a name like Tracy and a head full of heavy, perfectly straight hair, I was ready to take on the world.
Until my towel fell off, as it inevitably would.
And then came the middle school years.  I eventually did grow my hair out and contrary to my mother's prediction, it did grow down once it built up a little weight.  That is when the endless battle with the blow dryer and the round brush began…a battle that continues to this day.  Curler sets, curling irons (yes, curling curly hair can actually make it straighter, in a way) and ultimately flat irons have come and gone through the years with varying degrees of success and mountains of wasted time.  But I was determined.  If I wasn't blessed with straight hair, I would just have to fake it.  And it would work for a while…but I lived in fear.  I lived in fear of humidity, rain, swimming pools, and getting stuck somewhere without a high-powered hair dryer.
And then one day I saw curly hair through completely new eyes.
I had a little baby and as this baby and his hair grew, soft red ringlets appeared all over his head.
Beautiful curls.
Curls I run my fingers through every chance I get.  Curls that strangers stop and comment on in Target and Kroger.
I made sure Little Boy K grew up loving his curly hair.  I made sure he heard every compliment; let him know regularly that his hair was unique and special.  For the most part, my efforts have been successful.  He refers to his hair as "my beautiful curls".
My second baby is also afflicted with The Curly Hair Curse (it must be a dominant gene).  And while his curls are a pale lemony-white, they are no less beautiful.
Yet the war still wages on.  I can run my fingers through their sweet ringlets one minute and torture the living hell out of my own the next.
Once, while playing with Little Boy K's curls, I reminded him of how beautiful they are and he casually asked me why I never wear my own curls.  Aren't they beautiful too?
There's nothing like having your hypocrisy pointed out to you by your own kid.  But then I remembered the golden rule of parenting: actions speak louder than words.
And he was right.  How can I expect him to believe that his curls are beautiful when I do everything I can to erase my own?
So I started to wear my curls from time to time.  It's certainly a lot less time-consuming and quite practical in the summer time.  And to tell you the truth, I don't hate them nearly as much as I used to.   I think the love I feel for their curls just might be rubbing off on my own.  I have come to see them as a badge of honor – something special the three of us share.  When I am in Target or the grocery store with my two little curly-haired boys, they have their curly-haired Mommy standing right there with them.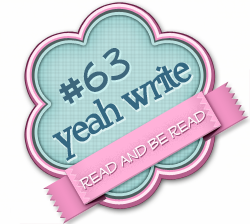 Follow me on Twitter                                  Find me on Facebook                                  
Want new posts delivered straight to your inbox?  Subscribe by Email!