I entered his room with a singular purpose, the plastic trash bag bound for Goodwill in my grip.
This room is so full. His drawers are full. The bookshelf is full. The room is so plump and overstuffed it stifles any occupant, the gravity created by the masses of Stuff sucking the oxygen from the room.
Fresh off of Christmas and his seventh birthday, I have been on his case about cleaning out the old to make room for the new, all those little boys who need clothes and toys and would love to have the things he can do without, how much more he would enjoy what he has if he just had the ability to actually see what he has, the importance of letting go, and on and on.
Well now was the time. With Little Boy K out of town for his twice-a-month visit to his other household, I planned to get a jump-start on this process, removing what I knew he would not miss.
I started with the pajama drawer. The top layers were easy, consisting of things he just outgrew too quickly or weren't a style that he prefers to wear. I matched superhero tops to superhero bottoms and made a massive pile of red and blue, Spidey and Star Wars, that I would transfer into his brother's room for future wear.
Towards the bottom of the drawer, I started pulling out the footie pajamas, the ones that zip up the front and have little rubber treads on the feet. My breath began to catch in my throat at the familiar patterns of choo-choo trains and puppy dogs (the time before superheroes) as the images of morning snuggles and after-bath book time flashed through my mind. I held them up, to see how tall he was.
I can see him in them.
Like magic, the fabric in my fingers expanded from its two dimensions to three. I pressed the material against my nose and inhaled, closing my eyes and willing myself back into those memories, hoping to catch even the smallest hint of his baby smell amidst the detergent.
I love every molecule of Now. But I still miss every moment that came before with the finality that comes from knowing I can't have them back.
I have a task to complete, I thought with a sigh. Besides, someday Baby S could wear these too.
I turned my attention to the basket of shoes, overflowing with rubber, velcro, and Spiderman. Lining them up on the floor in front of me, I matched them up in pairs until they formed a little wall. Opening the plastic bag, I grabbed at the first pair.
They didn't make it into the bag.
What is it about their shoes?
Is it because it's just so easy to see those little feet in them?
I can remember picking out each pair, kicking them under the couch, pulling smelly socks out of them to toss in the laundry, cleaning mud off of them after our morning at the playground, holding onto them when he tried to climb the railing at the zoo to retrieve Iron Man from the elephant exhibit.
I can see him in them.
They went into the bag but the bag went into the closet, not to Goodwill.
I can find a way to store eighteen years worth of shoes.
I can, right?
It looks like letting go is something I could work on too.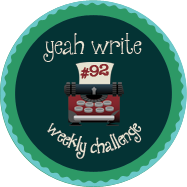 Linking up with the wonderful folks at Yeah Write.  I've missed them mucho lately and look forward to reading all the awesomeness that can be found round about their neck of the woods.  Stop on by, I guarantee you'll find something you like.